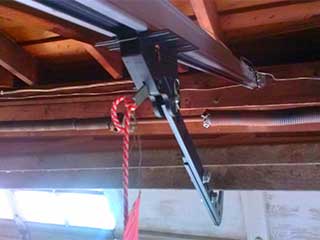 Our professional technicians can replace your old springs with new ones of the highest quality. We adhere to the industry's strictest safety standards and our experts can handle these dangerous components with speed and efficiency. You should always call us when a problem presents itself, as any mishandling of these crucial components can lead to injury and/or property damage.
When Are Repairs Needed?
If one spring isn't working as well as it should, there's a big chance the other one will soon follow suit. You can save a substantial amount of time and money by getting both replaced once one of them starts showing signs of damage. Springs are arguably the most important parts of your door system, so it's vital that you have them tended to by professionals as soon as you notice it. Your garage door is not safe to use while these components are in a less-than-optimal shape.
Buying The Right Ones
It's essential that you make sure you are buying the right springs for your door, or you could be risking damaging the entire system. The ones that we install are always a perfect match for the weight of our customers' doors, and we always conduct a balance test once we're done, to make sure their tension is properly distributed.
The Two Main Types
The two main types of springs are torsion and extension. The extension type ones are smaller and are attached to the sides of your door. They operate by stretching and contracting. Torsion springs are sturdier, and because they wind and unwind as opposed to stretch and contract, they are considered far safer to use, as they are less likely to snap and go flying around your garage. The majority of garage doors have at least two springs, but some smaller doors have only one.
Get in Touch With Us Today
Our Garage Door Repair Scottsdale team is ready and waiting to help you deal with all of your spring related problems.
Looking for more? We also offer:
Opener Sensor Repair & Replacement
Galvanized Torsion Spring Installation
Garage Door Off Track Repair