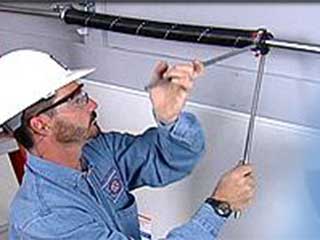 Unfortunately, large mechanical systems like your garage door are bound to suffer from wear and tear damage over the years. There is a way to reduce the accumulation of that type of damage, and to increase the lifespan of this complex system in the process. It's called – professional maintenance.
The Most Valuable Benefit
While it may seem obvious to some people, many homeowners don't fully understand how important regular maintenance can be. Not until their garage door breakdowns when they're in a hurry to get out of the house. Only then do people begin to "see the light", as it were, but by then the damage can't be prevented, only treated, which means that apart from money, it'll cost them the most valuable currency of all – time. No one wants to deal with unexpected hurdles during their busy day, which is why routine maintenance is so important.
Increasing Longevity
The best way to ensure that your system stays in the best condition possible for as long as it can is through regular maintenance. Our professional technician will perform a complete examination of your garage door, test out its various features and replace any part that is found lacking. This means the potential of an unexpected breakdown will be absolutely minimized. Replacing worn-out hardworking components, like a motor gear or a spring, with new (and improved) parts means that the system's overall performance will stay optimal.
Ensuring Safety
The benefits to performance and longevity are clear, but professional maintenance offers another major plus, and that is optimizing the safety of the system's operation. The spring tension adjustment and photo-eye sensor realignment our experts perform during a maintenance appointment will prevent potential accidents from occurring.
Experience Is Key
When it comes to professional maintenance, you'll want to choose a company that's highly experienced in performing this service. That's why you should call our experts at Garage Door Repair Scottsdale and schedule an appointment today.
In addition, we offer:
Part Replacement & Lubrication
Belt Drive Garage Door Openers
Oil Tempered Torsion Springs
New Garage Door Installation